There's a way to save millions of gallons of water this fall! As golf course superintendents and sports field managers are overseeding their rye grass, the seed is requiring near steady flows of water. Geoponics offers solutions to this high economic and environmental demand with Humawet and Profasorb.
Humawet and Profasorb are two wetting agents that can help save water usage and retain water in soil.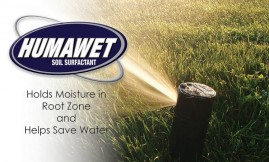 Save Water While Overseeding with Humawet and Profasorb
Humawet is the most powerful soil surfactant for retaining water and is often used on greens with added benefits provided by humic acid.
Profasorb is the most economical and effective soil surfactant for use throughout the golf course, including on fairways. It's ease of use in fertigation systems makes it particularly popular, saving water and saving time – removing the need for using a spray rig for application.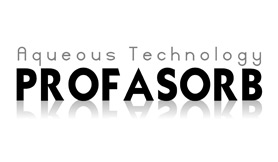 "As superintendents go out there and put the seed out, they're running water constantly right now," explains long time expert in her field of turfgrass management, Jennifer Seevers, of Geoponics.
"They're running their irrigation just non-stop, keeping that seed wet and moist, so it will germinate. Without water, it's not going to happen," adds Seevers.
Conserving water also saves money while overseeding
While overseeding is happening on turfgrass across the country, the water usage on the West Coast is more extensive—and more expensive!
"On the East Coast, there are people who may take water for granted. But when you get west of the Mississippi, there's a different mentality about water. . . They're saving $27,000 per month using these two products," says Seevers.
"Imagine what they're spending," she exclaims.
Some golf courses are spending up to $800,000 for water! Meanwhile, others don't even pay for water.
Either way, these wetting agents will save on water usage, whether for saving tens of thousands of dollars, or gallons or both.
"It's an extra tool for them. They don't have to water quite as much and it will aid in that seed germinating more quickly," says Seevers of turfgrass managers.
The benefits don't end at germination either.
Improving soil health will save water while overseeding
"Once the seed does germinate, and people have a full stand of rye grass, these products, especially in places like Texas and other places where they need to keep watering that plant, will help," says Seevers
While Profasorb and Humawet are great for use during overseeding, they can be used anytime it's dry and the soil is in need of retaining water.
These environmentally friendly products nourish the soil for better plant health while conserving water.
Humawet incorporates the growing super power of humic acid for soil health.
Learn more about Profasorb and Humawet here: Soil Surfactants Guide.
Order on ShopGeoponics.com, contact your sales representative for larger orders or contact 1-877-ECO-GROW, info@geoponicscorp.com.
Another water-saving and money-saving alternative to overseed is turf colorant. Learn more about this alternative at TurfPaint.net.