If you're a lawn care professional interested in expanding your business and customer base, you've likely heard of the newest trend in lawn care services: lawn painting! The process requires the use of special landscape colorants, and this is where Endurant TurfPaint.net comes in. With a wide selection of turf paint colors, we offer the supplies needed to create naturally looking green lawns in many types of conditions and settings. Let's take a look at what sets Endurant apart from other suppliers.
Quality Lawn Paint for Best Results
Endurant TurfPaint.net carries only the best turf paints on the market. Their long-lasting landscape colorant products are designed to withstand extreme temperatures and humidity levels, so you can be sure that your customers will get their money's worth after investing in color enhancement for their lawns. The Endurant paint is also environmentally-friendly and non-toxic, so you don't have to worry about damaging any grass or foliage during application. All of these factors make it simple to create beautiful lawns and landscapes that won't fade or wash away quickly.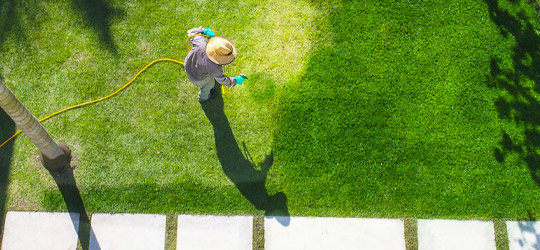 Extensive Selection
With various colors available within Endurant TurfPaint.net line, there are plenty of options when it comes to creating beautiful and natural looking lawns and landscapes for your customers. You can mix and match different colors to create you own special blends or opt for an ombre look with subtle shading between shades of one color—the possibilities are endless! Plus, Endurant offers 32 oz, one gallon containers and five-gallon packaging options depending on how much paint you need for each job, so you always have enough product on hand when planning new projects.
Customer Support Services
Perhaps most importantly, Endurant TurfPaint.net offers customer support services every step of the way—from providing advice on how much paint to order for each job to offering tips for matching the right colors with the varying types of grasses with their products. This makes it easier than ever before to get started! Endurant even provide helpful videos about various techniques and tips that can be used when working with their products, further emphasizing their commitment to helping professionals succeed in this niche field of work!
Lawn painting is a great way to expand your business as a lawn care professional—and thanks to Endurant TurfPaint.net, it has never been easier! With quality products designed specifically for this purpose and extensive selection options available, you can easily afford your customers the greenest lawns in the neighborhood that will last through all types of weather conditions without any worries about damaging plants or grasses during application process. Plus, they offer helpful customer service services that make it easy to get started with each new project! From providing advice on how much paint should be ordered to offering tips on how to optimize your applications and natual appeal with their products, Endurant TurfPaint.net helps make sure that each job is done correctly from start to finish! Investing in these supplies will help ensure success as you venture into this new field of work!