Endurant Mulch Colorants enhance and beautify a landscape. These colorants are made from organic pigments with non toxic binder to ensure the color lasts.
Endurant Mulch Colorants are excellent for mulch, bark, pine straw and other coverings. The colors available include Black, Brown, Pine Straw and Cypress Red.
The four mulch dye colors of Endurant are ideal for sprucing up mulch, bark or pine straw instead of having to spend the extra money and labor on a full replacement. The colorants can be used to change the color of the mulch and to extend its life.
Custom color blends are available in large quantities as Endurant landscape colorants are available for all types of ground covers, including sand and stone.
Because Endurant is non toxic, it's safe for the user, the environment and animals.
Enhances curb appeal.
Refreshes the landscape quickly.
Applies easily with a pump sprayer.
Eliminates extra labor of laying down new mulch.
Prevents over-use of mulch, which could harm plant health if applied too thickly.
Comes in four colors to help a garden, lawn or landscape pop with color.
Select Black, Brown, Pine Straw or Cypress Red.
Comes in 32 oz bottles, cases of 12 bottles at 32 oz each, 5 gallon pails and larger quantities.
One 32 oz bottle treats up to 1,000 square feet.
Color lasts up to 7 months.
Save money and labor of hauling bags or piles of colored mulch.
Endurant is eco-friendly with its organic pigments and non toxic binders.
Save up to 8 trees by using Endurant Mulch Colorant to revive faded mulch instead of piling on more mulch.
Dries in hours.
How to Pick Your Color:
You may choose to bring your mulch back to its original color, choosing the Endurant Mulch Colorant that coordinates best. This will spruce up and enliven the existing color or get it back to looking fresh. Or, you may want to try something different.
Either way, Endurant Mulch Colorants will help you go from gray and drab to a lively landscape in just a few minutes.
Consider the benefits for the plants and the look of the landscape. Take a look at landscapes you like if the color on a bottle or bag doesn't inspire you.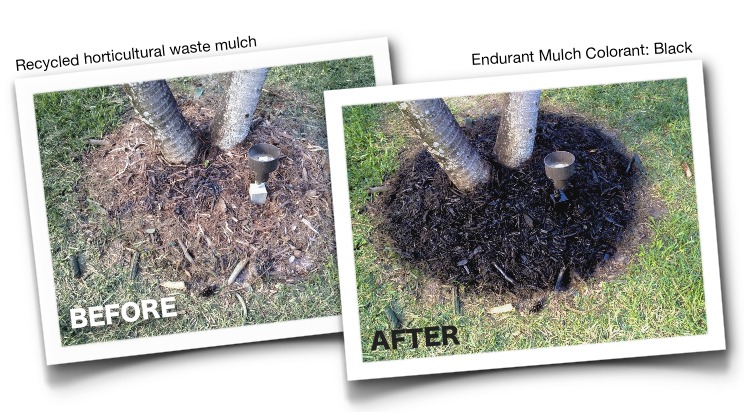 Other Mulch Color Considerations:
Endurant Mulch Colorant's Cypress Red or Black may give a commercial look.
Endurant's Black may be used for bark or mulch.
The darkness of Endurant Black mulch paint may warm the soil and thus may be preferred in northern regions or cooler climates. Though certainly it's a popular choice in any area.
Brown is a great choice for its combined complement and contrast to all shades of green in landscapes.
Cypress Red is often selected for use on cedar mulch that has greyed.
Choose a color that adds contrast to the buildings and nearby landscape. So if it's a red brick building, you may prefer Endurant's Black or Brown mulch colorants to Red.
It's all about preference, but those are some considerations.
How to Use Endurant Mulch Colorants
Ensure the mulch, bark or pine straw is dry and there is no rain in the immediate forecast.
Shake the bottle of Endurant Mulch Colorant well.
Mix at a rate of 8 ounces Endurant Mulch Colorant to gallon of water in a garden sprayer. (Professional and commercial users may find other sprayers or application methods to suit the size of their projects.)
Mix and shake well again.
Consider wetting any concrete areas near where you intend to spray to assist in clean up of any accidental overspray.
Cover hands, clothes or anything you do not want to accidentally cover with mulch dye.
Spray evenly onto mulch, bark or pine straw.
Let dry.
If a darker shade is desired, reapply.
Allow several hours to dry, depending on humidity and weather conditions.
Caution: This and all Endurant Landscape Colorants will stain or add color to any surface where it is applied. If accidental overspray or a spill occurs, clean up immediately by rinsing with water before the colorant has a chance to dry. It is best to completely avoid or cover nearby porous or absorbent surfaces where colorant is not intended.
Testimonials
"This product is awesome! I had the wrong colored mulch delivered and needed to get it in place before there was time to correct the error. A bottle of Black Endurant Mulch Colorant and a backpack sprayer saved the day."
~ Bryan R., Vermont
"Sprucing up the garden was so easy. Instead of lugging mulch around, we simply sprayed and it looked amazing! I only wish I knew about this sooner."
~ Holly G., Florida
"Instead of spending money on over-priced mulch, we simply got some horticulture waste at no cost. We saved money and got the best results using Endurant Mulch Colorant on the mulch. It looked better than any bags of mulch we've ever bought."
~ Joe B., Massachusetts