Fertilize flower beds, gardens and lawns using FertaFlow organic fish fertilizer. Because it is organic and OMRI listed, it is ideal for growing fruits and vegetables you can feel great about eating.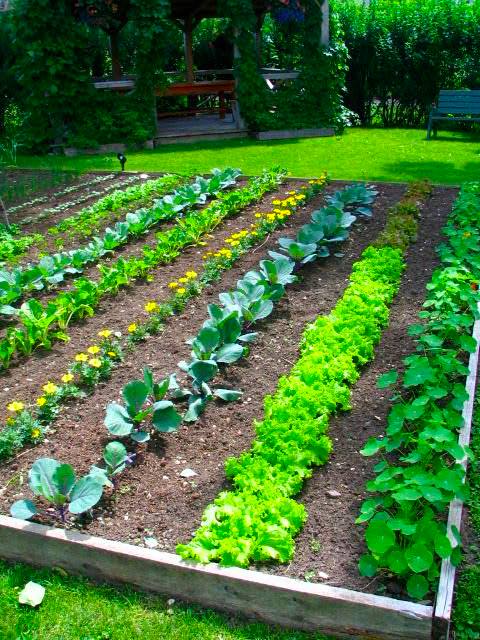 FertaFlow provides the nutrients plants need to stay healthy and can be absorbed through foliar or via root absorption. FertaFlow is a food source of naturally occurring microorganisms readily available to the plant.
FertaFlow's superiority is in part due to the slow, cool processing method that retains oils, enzymes, vitamins, hormones, proteins and amino acids essential for optimal plant growth. Many other brands strip away these essential nutrients.
WHEN TO USE FERTAFLOW
Fertilize your lawn and garden on time this spring. If you're in a cold winter region, doing so when the soil temperature reaches 55 degrees Fahrenheit. When the grass starts growing, it's time.
FertaFlow is appropriate for many uses in the garden and is useful as a lawn fertilizer in early spring and to feed leafy green vegetables.
An additional application may be planned about four weeks later, around mid- to late- May. Then fertilize every six to eight weeks after that straight through October, or beyond, depending upon the growing region.
FERTAFLOW IS ORGANIC, OMRI LISTED 
Be proud of what you're growing using FertaFlow and be proud of how you're growing it. FertaFlow is one of Geoponics' products that is OMRI Listed® for organic growing through the Organic Materials Review Institute.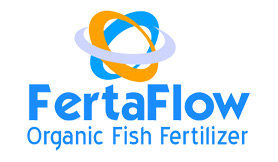 BUY NOW!
Purchase FertaFlow here and visit the Geoponics Shop for other products ideal for lawns, gardens, farms, golf courses, athletic fields and other applications.
BENEFITS OF FERTAFLOW INCLUDE:
Produces strong, beautiful flowers; deep green turf; and delicious fruits and vegetables.
Promotes the growth of soil microorganisms.
Will not burn plants or stripe.
Efficient for use with spray or drip irrigation systems.
Cold processed to preserve nutrients with no fishy odor.
Environmentally-friendly, organic, biodegradable product.
WHY FERTAFLOW?
FertaFlow is made from fresh fish carefully processed at low temperatures to maintain the integrity of naturally occurring nutrients.
The majority of fish fertilizers on the market are known as emulsions, meaning the fish is cooked and the oil removed for industrial chemicals. Also, the protein is removed and dried to make fish meal for livestock feeds. The remaining waste is condensed into a thick liquid called an emulsion. FertaFlow, however, is cold processed to retain the living organisms and all the natural oils and proteins nature originally provided.
FertaFlow is made from a unique source of fresh fish. The enzymatic process used takes nature's protein and makes it readily absorbable for plant leaves and roots. FertaFlow provides all the nutrients you would expect from fish without the unpleasant smell. FertaFlow will promote beautiful flowers, lush green lawns and turf, and delicious fruits and vegetables.
MORE BENEFITS:
No strong fishy odor
Low cost per application
Ease of use
Will not stripe or burn
100% organic
Promotes the growth of soil microorganisms
Cold processed to preserve nutrients
Made from a renewable & sustainable resource
Produces strong plants with abundant flowers & fruit and deep green turf
Formulated for both foliar & root zone applications
100% fish protein broken down into readily absorbable nutrients
Efficient for use with spray or drip irrigation systems
Environmentally- friendly, organic and biodegradable product
UNDERSTANDING FERTILIZER NUMBERS
For home users who may be less familiar, the three numbers that you see on FertaFlow, and other fertilizer labels, tell you what proportion of each macronutrient the fertilizer contains. The first number is always nitrogen (N), the second is phosphorus (P) and the third is potassium (K).
Nitrogen provides for lush, green plant growth; phosphorous and potassium will promote better root growth and potassium provides for overall health and vigor.
FertaFlow's Guaranteed Analysis: 2-3-1
Total Nitrogen (N)………………………….. 2.0%
Water Soluble Nitrogen………………        1.7%
Water Insoluble Nitrogen…………….      0.3%
Available Phosphate (P2O2)…………….   3.0%
Soluble Potash (K2O)……………………..   1.0%
*Derived from protein hydrolysate, allowing for greater absorption
BETTER TOGETHER
FertaFlow, SoilPlex and Carbotein work best together. Learn more about why and how to use the three in combination for ideal growing conditions in an upcoming blog coming soon to GeoponicsCorp.com.