Lawn Picasso provides eco-friendly green lawns in California drought with Endurant organic colorants
A business is painting the town—and beyond—to combat drought and brown grass in the most ecofriendly way possible as California faces the worst drought in history.
Grass painting business launched to provide organic green lawn & water savings as California faces historic drought

Launching Lawn Picasso
Teresa Humphreys launched Lawn Picasso in May with two environmentally friendly tools helping take on the water challenge: Endurant organic turf colorants and a zero emissions sprayer from ProEdge.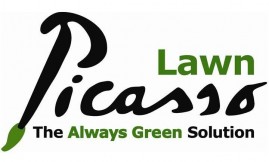 Lawn Picasso opened in Livermore, California, a city located in Alameda County on the eastern edge of the San Francisco Bay area. Lawn Picasso is expanding to a larger canvass as the business is growing quickly to serve residential, commercial and municipal properties.
Environmental solutions
Humphreys is a longtime environmental steward in the eastern San Francisco Bay area. She is working diligently to share her values and the ideal solution provided by Endurant organic turf paint, a product offered by Naples, Fla.-based Geoponics.
"Education is paramount with this new concept. So, we really spend a lot of our time at community events, with city officials and with realtors; area marketing meetings with different groups, and allowing them to see and feel the end result with the Endurant product," said Humphreys.

Award winning practices for water conservation
Husband Nathan Humphreys first found eco-friendly solutions to the brown grass, drought and water restrictions faced by California property owners and managers several years ago as director of facilities at The Athenian School, a school founded on environmental stewardship in 1965.
Many of the practices at the private school were proactive. When the drought continued, the practices became even more crucial to the property and region.
Endurant organic turf paint provided solutions for the 75-acre campus located in Danville, California, at the base of Mount Diablo. The school is a green school, water smart school and has used Endurant organic turf colorants to maintain that status while also maintaining optimal visual appeal.
Painting the town, expanding the canvas
As the drought worsened and lengthened, Humphreys realized more people needed help in understanding how to protect valuable natural resources—and that they could do so while still maintaining high standards for the looks of their landscapes.
She knew she could get the job done well and had the experience.
Humphreys spent months researching the best product and equipment to offer. ProEdge developer and designer Bill Johnson, of North Carolina, advised Humphreys that he and professional lawn care customers have long found Endurant Turf Colorant to be a superior product for the life of sprayers, eco-friendly aspects, ease of use and finished product.
"This is a brand new concept for many people in California, even though it's been around for years. We used several products and found Endurant was our best option, primarily for its eco-friendly ingredients and longevity of the colorant," Humphreys said.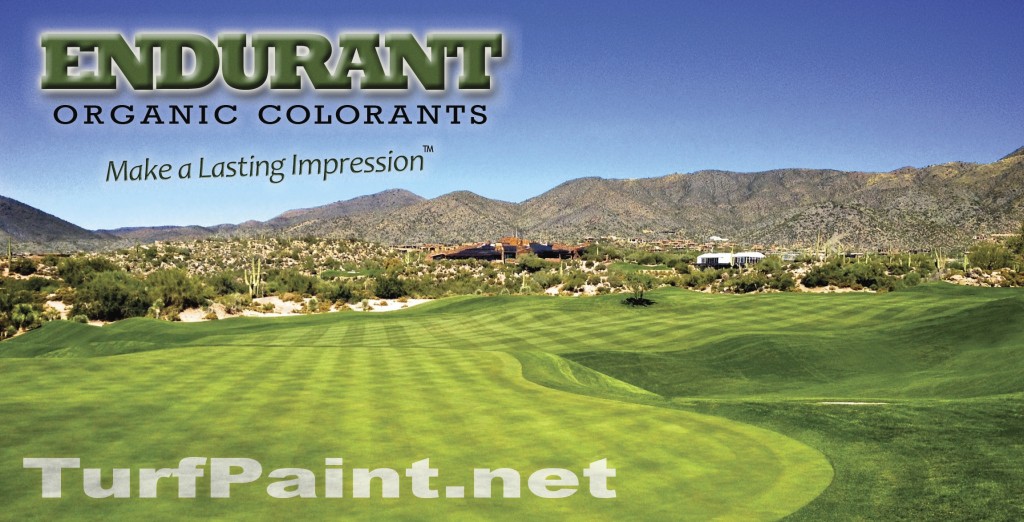 Saving water & avoiding fines
Months into the drought, residents and government officials in affluent areas weren't pleased with all the brown lawns. While many also seek environmental solutions, some homeowners (and even government officials as reported by TV investigative reporters here) were sneaking in extra watering at night to maintain their quality standards despite the water challenges & hefty fines for violating water restrictions.
Humphreys decided Endurant organic turf colorants could provide homeowners, municipalities, recreation centers, athletic fields, schools and parks a green lawn solution to their brown grass problem.
Using Endurant organic turf colorants and a zero-emissions sprayer from ProEdge, Humphreys is able to provide the natural looking, environmentally friendly and lush green lawns people long to maintain.
Regaining curb appeal means business is booming
There's high visibility when you're the one green lawn in the middle of a drought, Humphreys said.
As people become interested, they then learn it's eco-friendly, is safe for pets and students and has a reasonable dry time to avoid tracking into buildings.
Lawns might average about 500 square feet in size with the starting costs to go from brown grass to green grass at about $200, depending upon the size of the lawn, she said.
With no rain in California, the grass isn't growing and the Endurant organic turf colorant is lasting about 16 weeks with no discoloration, she said.
As for business, it's growing fast.
"It's been fantastic," said Humphreys.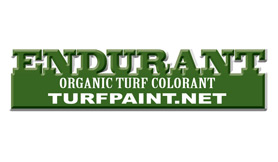 Interested in offering a green solution in your area? Contact Geoponics: info@GeoponicsCorp.com
1-877-ECO-GROW. www.GeoponicsCorp.com