While there's a wedding tradition: Something old, something new, something borrowed, something blue– blue turf was not the "something blue" that the bride had in mind. An old turf paint nearly ruined her wedding. Until an application of natural grass-colored green Endurant organic turf colorant repaired the blueish turf just before wedding day at a North Carolina golf course.
No more blue turf: Other grass paint brands fade to a fake-looking blueish colored turf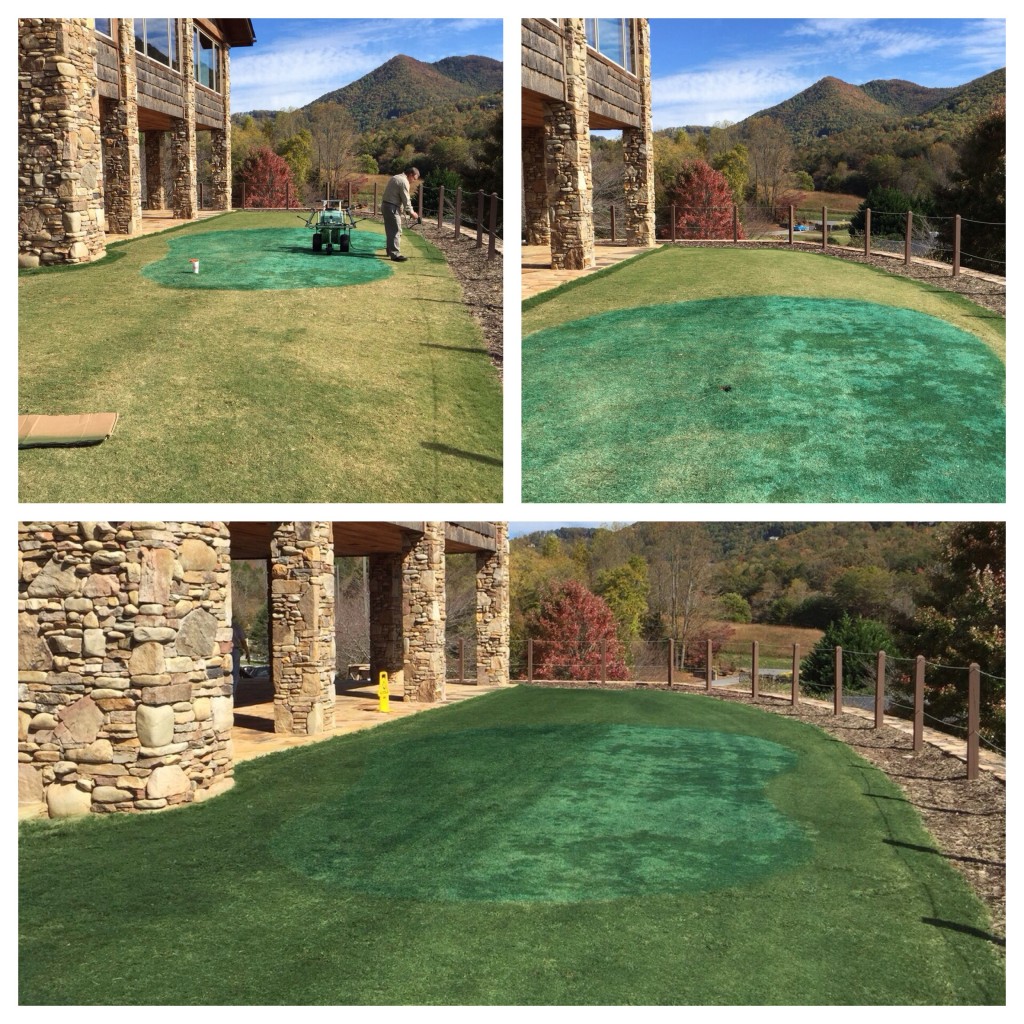 Endurant organic turf colorant applied on the blue-colored turf repaired the grass just in time for a wedding at Ridges Golf Club, located in the Smoky Mountains of Hayesville, NC this October.
Attempting to green up the property for eye appeal, golf course superintendent Daryck Beetham, who just recently began improving the course and property as part of the Ridges Golf Club's new management from Sequoia Golf,  found a bottle of turf colorant in the chemical closet.
"I built a little green in front of the club house. I went into the chemical room and found a bottle that said it was green pigment. It didn't come out the way I wanted. It turned out very blue," said Beetham.
I panicked, he said.
Endurant Organic Turf Colorant provides natural looking green
"The staff at Geoponics called me back in minutes and came over and sprayed with their colorant," said Beetham.
The woman getting married asked what we did about the blue turf just before the wedding day.
"'We painted it for you,'" Beetham recalls telling her.
"She was ecstatic," he said.
Beetham was very pleased with his first experience with Endurant Turf Colorant.
"It is like August Bermuda grass color," he said.
Ridges Golf Club's turf grass inclues Bermuda tees and fairways; Kentucky blue grass fescue mix rough and bent grass poa annual greens.
Up next for Endurant TC will probably be some par 3 tees, said Beetham.
Get natural green grass!  The professional's choice in turf colorant is Endurant organic turf colorant. BUY NOW!