Endurant PR organic turf colorant prepares Desert Mountain course for 120 million household viewers during Schwab Cup Championship
Watch the Golf Channel coverage of the Schwab Cup through Sunday and check out Endurant on the course, providing lush colored fairways as Desert Mountain Cochise becomes the first course west of the Mississippi to apply the brand new Geoponics Endurant PR! 
The Charles Schwab Cup Championship will return to Desert Mountain through 2016 as executives cite the premium quality of the golf course and facility as reason for the high profile event returning to the Scottsdales, Ariz. course, Cochise.

Endurant organic turf colorants have been used on the courses at Desert Mountain in previous years, but 2014 is the debut of using the rich Endurant PR, perennial rye, colorant.
"The Schwab Cup will be the first time Endurant PR was applied west of the Mississippi," said Nick Lubich, of Fertizona-Fennemore.
Lubich worked with Shawn Emerson, director of agronomy at the largest private golf community in the country, who has been diligently preparing for the event. The Schwab Cup airs on the Golf Channel each day through Sunday, Nov. 2. View the tournament and TV airing schedule for the Schwab Cup here.
"We were looking for a color that would look great on television," said Lubich.
The Cochise course, mostly a perennial three-way rye grass, is overseeded, but needed an extra wow factor, made possible by Endurant PR, said Lubich.
Following the recent decision for the Schwab Cup to return to Desert Mountain through 2016, Desert Mountain's Chief Operating Officer and General Manager Robert Jones told Champions Tour Staff that the decision will bring consistent exposure to the award-winning private club and to the city of Scottsdale.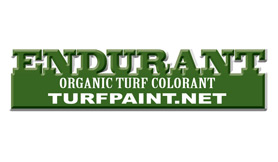 "When you have a high-profile event that attracts 35,000 onsite spectators and another 120 million households worldwide watching on TV, that's a golden opportunity to showcase Desert Mountain golf, our new amenities and our stunning location," Jones said.
The complete PGA Tour article on the decision to remain at Desert Mountain through 2016 can be read here.
Emerson plans to return to Geoponics to share his choice in using Endurant PR in an interview following the event. Return here for an update.
Turf Paint      1-877-ECO-GROW       info@geoponicscorp.com