Preparing for the Schwab Cup with Endurant Organic Turf Colorant gives Desert Mountain TV ready look, clinches Champions Tour season ender for 3 consecutive years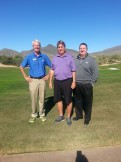 Highest in their field
Geoponics met with two top turfgrass managers in the golf course industry to see how they prepare for an event as renowned as the PGA Champions Tour: Shawn Emerson, director of agronomy at Desert Mountain Club in Scottsdale, Ariz., and Keith Hershberger, agronomist at Desert Mountain, along with a turf colorant advisor, Nick Lubich, of Fertizona.
About Shawn Emerson and Desert Mountain Club
Shawn Emerson surrounds himself with world leaders in turf management. He seeks the ideal balance between water conservation, minimizing chemical usage and providing the green turf and playing conditions that keep his courses ready for the most valuable players in golf and millions of television viewers. That's how he's called upon to provide the perfect course for the Champions Tour.
Desert Mountain has six Jack Nicklaus Signature courses on 550 acres of turf, comprised of six turf types. Desert Mountain hosted the Schwab Cup, and due to the ideal conditions provided, clinched the Champions Tour season ender for another two years.
The Schwab Cup season ender of the PGA Champions Tour was played on the Cochise course, with a blend of Bermuda grass and rye grass, overseeded and painted with Endurant PR, organic turf colorant for a hunter green, perennial rye look reminiscent of Augusta.
Q. Why use Endurant to prepare for the Champions Tour?

A. "We used Endurant two years ago on courses that were not overseeded and we liked it," Emerson said.
Emerson and his team spent years testing other colorants, seeking a darker green looking color that doesn't fade quickly, doesn't have a blue tint that looks fake and doesn't clog sprayers the way some colorant brands do.
"Endurant was the clear choice," Emerson said.

Q. What was your primary goal?

A. The desired look was a uniform color across the golf course in all the fairways. The Endurant greened up the Bermuda grass to match the existing rye grass, so it looked like all rye grass.
"Our goal is to look like Augusta and play like the U.S. Open, which was accomplished," said Emerson.

Q. Why choose the new Endurant PR from Geoponics for the Champions Tour Schwab Cup?

A. The Schwab Cup season ender of the PGA Champions Tour provided a debut of the Endurant PR as the first time the new colorant was used west of the Mississippi, said Nick Lubich, of Fertizona.
The course was overseeded, but the Bermuda grass was competing with the rye grass due to growth rates caused by a warmer than usual fall. A darker rye color pigment was desired to match the Bermuda grass to the darker rye grass.
Lubich knew just what to suggest—Endurant PR, for a rich, deep green and perennial rye grass look.
Normally, Emerson and Hershberger would be hesitant to use a new product days before a tournament, especially the Champions Tour, televised on the Golf Channel for 120 million households to see.
"We never saw this new formulation, the Endurant PR. But, from the previous products we'd used, we were comfortable with the manufacturer of Endurant and with our representative, Nick. So we went ahead and pulled the trigger," said Emerson.

Q. How did Endurant PR look in-person and on TV for the Champions Tour?

A. "It looks like an overwatered lush grass, and, really, it's not. That's what we're trying to accomplish out here, to look like the traditional overseeded, overwatered, over fertilized grass, but we can get that look and found we can cut costs," said Emerson.
The golf course looked like a completely overseeded golf course using fewer resources with Endurant PR and blended very well, he said.
"I thought it looked fantastic," said Emerson.
The Champions Tour leaders clearly agreed, changing initial plans for a different course to host the Schwab Cup next year, instead choosing to return to Desert Mountain for the Schwab Cup for at least three consecutive years. (original article here.)

| | |
| --- | --- |
| The world's top players expect a gorgeous, highly playable green course & they get it with Endurant. | Shawn Emerson gets the over-seeded, over-watered, over-fertilized look but instead uses Endurant organic colorant. |
| Getting TV ready requires the best looking turf for millions of viewers watching the Champions Tour. | Endurant PR gives deep hunter green look like an overseed perennial rye at Champions Tour event. |

Q. How was Endurant PR applied?

A. Endurant PR was used at a rate of 1 ½ gallons per acre. The Desert Mountain course, consisting of about half Bermuda grass and half rye grass, was sprayed with Endurant PR about six days prior to the Champions Tour event and again the day before the Champions Tour event. Mowing was frequent, with about 20 cuts, twice a day, over the course of the tournament.
A centrifugal pump and flat nozzle sprayer were selected and the turf was sprayed in multiple directions to increase blending and decrease any streaking.

Q. Environmentally, what are your thoughts about overseeding and Endurant organic colorants?

A. "In today's golf course management, people are using less fertilizer, less seed and less water. Endurant has allowed us to do that and maintain the color they want," said Emerson.
Emerson has left some of his golf courses without overseed and without paint in the past.
"People don't like it because it's not green. Green is an absolute important color in golf. Endurant allows us to cut back on fertilizer, seed and water and still get the thicker look of rye grass," said Emerson.

Q. With years of experience in turf painting and overseed, what other tips can you share with superintendents and landscape managers?

All paints work better when you're not mowing a lot.
The less you mow, the longer the colorant lasts.
If preparing for an event or tournament, paint as close to the start of the tournament as you can.
Start your colorant program prior to Bermuda grass going dormant.
Experiment with the rate of Endurant colorants to get the color you want. You can use less and just take off some of the whiteness or balding of Bermuda grass or go with the full rate (1 ½ gallons per acre) and get the liquid overseed look.
Be careful experimenting with brands as some will cause a blueish turf.
We found centrifugal pumps work better than diaphragm pumps for pigments.
The direction you paint is important. We painted in more than one direction to help provide uniformity of color.
Clean nozzle and pumps to prevent streaking and clogging.
Experiment with different nozzles to fit the typography.
More on how to paint a lawn here.

Geoponics manufactures Endurant organic turf colorants and other earth friendly turf, garden and landscape solutions. www.TurfPaint.net

Q. What are your thoughts on the varieties of Endurant organic turf colorants?

Emerson and his agronomy team, including Hershberger and Lubich, have used the full line of Endurant colorants at one time or another, including Endurant TC, the orginal; Endurant TE with turf enhancers for actively growing grass; Endurant FW for fairways, Endurant Premium for a deeper green variation of Endurant TC, and Endurant PR for the perennial rye deepest hunter green that is reminiscent of Augusta.

A. "We thought the original Endurant we'd used was great. We loved it. But the current product we're using is better for rye grass, for that darker, deeper hunter green," said Emerson.
The original is more geared toward Bermuda grass.
"We call it our liquid fertilizer. We didn't tell anyone we were using it. (UNITL NOW) We just said 'it's our liquid fertilizer application.'"
Choose which Endurant turf colorant variety based on the shade of green desired. Check out www.TurfPaint.net and buy now!