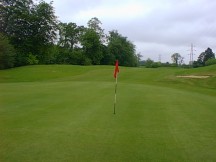 Naples, Fla.-based Geoponics Corporation partners with new distributor, ProGrass, to offer earth-friendly turf products to Ireland and the rest of the European Union.
Ireland golf course superintendent Gerard McEvoy was facing bouts of flooding rain followed by droughts when he came across a solution with Geoponics products.
The founder of ProGrass, a supplier of soil and grass products in Europe, McEvoy sought to bring the results he enjoyed to other professional golf course and lawn managers, as well as to home owners.
"Because of the downturn in the Irish economy, we had to look for more cost effective products that didn't reduce the quality of our playing surfaces," said McEvoy, who was challenged by water management issues as a superintendent at Dunmurry Springs Golf Club.
"We wanted products that would help us move water through our soil profile after a rainfall event, so we used the Penterra and in dry periods we switched to HyrdraHawk," he said.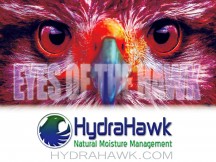 The root of the expansion were the results McEvoy saw a little more than a year ago when faced with these moisture challenges.
"We have USGA spec bent grass greens, and, on some of our greens, I found it difficult to dry out the surface and move water through the root zone," he said.
Ireland may have one night of heavy rain but then only get two to three inches over the course of the week, he said.
"We get a lot of moisture laden air being swept in over Ireland. I was looking for a product to help pull the moisture from the surface quicker and that's what I came across with Penterra."
No longer needing to spend the time and money brushing the dew from the greens everyday was just one area of savings, he said.
McEvoy quickly got the firm greens that golfers want—whether they're at Dunmurry or one of Ireland's approximately 400 other golf courses.
"Many of the courses here in Ireland are old courses with push up greens that have been top-dressed over time with sand. Some of these greens would hold onto the moisture in the winter and there would be black layer problems and anaerobic conditions. Geoponics products will give these superintendents another tool in their tool box to help tackle these problems," McEvoy said.
Geoponics products also offer solutions to the challenges posed to the southeast of the U.K., which is facing drought conditions and water restrictions. Geoponics products, available to Ireland and the rest of Europe through the new Ireland-based distributor's website, www.prograss.ie, can help the varying water management issues throughout the countries it serves. The company is directed toward homeowners and sport facilities.
Geoponics is an environmentally-friendly company supplying products to lawn and turf, garden and golf course managers using earth sciences to foster water, soil and plant health. The products are effective and offer cost savings.
Geoponics is very enthusiastic about the expansion to Ireland and the countries in the European Union through McEvoy's decision for ProGrass to become a Geoponics distributor.
Contact:
Europe
Gerard McEvoy
ProGrass t/a Border Sports Ireland, Ltd.
Rahilla, Kildare, Co. Kildare
+353872048344
gerard@prograss.ie
Geoponics Corporation
(877)667-6330