1When rain sits, here's what you get: Penterra!
Penterra is the fastest-acting soil penetrant on the market today. During the heavy rains of summer, particularly common in South Florida and of course other areas around the world, Penterra is a savior for golf course superintendents, turfgrass managers and other growers.
One of the greatest challenges of golf course superintendents and agricultural growers is water management. Penterra is a wetting agent that leads to success when it's time to get water moving through the soil.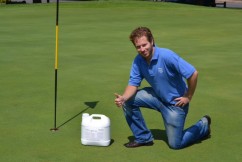 Not only does Penterra keep soil, plants and turfgrass healthy, it helps to quickly restore usual operations– especially useful for getting back in the game quickly after rain on golf courses and athletic fields.
Whether for a summer tournament or to maintain usual daily usage, turfgrass managers, athletic field managers and golf course superintendents, among others, rely on Penterra as a soil penetrant that by far out-performs any wetting agent when it comes to getting water moving quickly throughout the soil profile.
Penterra is a tried and true type of product used by industry professionals in turgrass management, golf course management and agricultural uses for many years, accumulating dozens of testimonials and thank you's for saving properties, plants, crops and time.
A couple of those testimonials from professionals include:
"I have never seen a surfactant pull water so quickly off the canopy, and I've used them all. I'll give them credit, it really does what they say it will do."
Robby Henderson,
Golf Course Superintendent
Maggie Valley Club and Resort
Maggie Valley, NC
"It is the single best product for what it is that I have used in 25 years as a superintendent."
Johnny Powell
Golf Course Superintendent
North Myrtle Beach, SC