Green lawns during drought catch the eyes of neighbors and news outlets. It's easy for homeowners and landscapers to get green lawns even in severe drought. That is if they're up on the news that Endurant green grass paints provide a solution that is easy, earth-friendly and effective. Lawn colorant for green lawns  turn homeowners' dry brown grass into gorgeous green lawns in record time.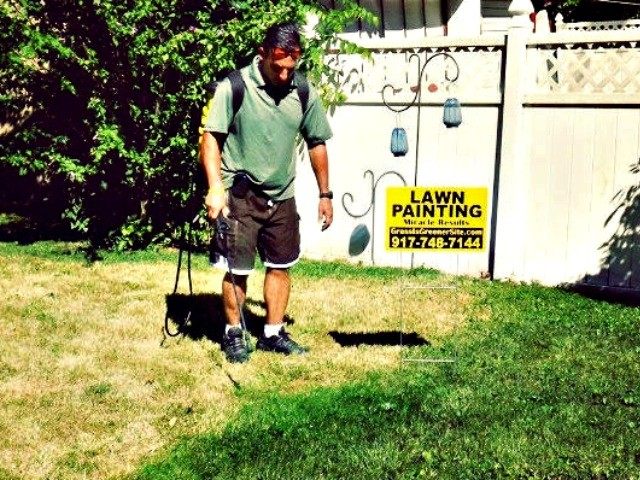 One of several recent news reports highlights how Endurant brings green lawns back to neighborhoods even in drought stricken California:
In Sacramento, one man has an idea of how to keep lawns green during the drought, and he's selling that idea to those wanting to restore their verdant lawns; paint the grass green.

Bill Schaffer, who started his company, Brown Lawns Green, two months ago, said it started with a conversation with his girlfriend: "One night I said to my girlfriend, 'Ya know, people are going to have to start painting their lawns green if they want green lawns this summer.'"

Shaffer told CBS Sacramento that the paint, comprised of stone pigments and oil that help it stick to the lawn, is nontoxic, and thus safe for children and pets.

He stated that it lasts roughly six weeks, adding, "In July you should be able to get about 6, to 8 weeks out of it, because you are not cutting your yard as much." Shaffer has sold his services to roughly 25 people so far.


The idea of painting grass green is not new. The New York Times reported in 1992 that turf paint had been utilized in the face of a severe two-year drought in Southern California, with hundreds of instances of lawn-painting in Santa Barbara.

Golf courses have used the technique for years; Rick Sall, the head superintendent at Toscana in Indian Wells, told the Desert Sun that he thinks dormant Bermuda grass can be turned green with a colorant. He acknowledged, "Paint will be the next evolution in the desert."

Golfcourseindustry.com reported in 2013, "PGA West knows where to turn when they're showing off their course on national television. The golf course in La Quinta, Calif. has used TV-readiness Endurant for the past two winters, giving it a wow-factor for players and viewers of the Golf Channel Am Tour National Championships."
Practice of painting turf for green lawns isn't actually new, it's just more popular
The practice of painting turf has been around for a long time, especially in industries such as golf course management, athletic field maintenance and sod growing. Endurant turf colorants remain particularly popular among golf course superintendents who have long valued the importance of the green color and contrast for playability, which is often their primary job responsibility, but also believe in preserving resources, both economic and environmental. These turf professionals have long turned to Endurant to prepare their properties for players, members and often large live and TV audiences (Click here to watch as NBC TV lauds Endurant green grass paints) while reducing pesticide usage, harsh chemical runoff and water usage. They've learned environmental responsibility can actually come with economic, agronomic and aesthetic benefits thanks to Endurant.
Several recent news outlets, including the Wallstreet Journal in June, have caught on to the roll that Endurant organic turf colorants are playing in the drought in California and other areas. Endurant is helping to expand services provided by many lawn and landscape companies. Meanwhile, brand new businesses have popped up to help keep up with the high demand. More Endurant green lawn painters are needed in California as demand increases faster than companies can offer services.
Green lawns boost real estate sales and painting green lawns gives economic boost for lawn maintenance businesses
Painted green lawns have played a great role in preserving and even increasing grass paints boost real estate values up to 12 percent. Simple landscape improvements quickly increase curb appeal and painting brown grass to create lush looking green lawns is often one of the least expensive, fastest and easiest ways to boost the looks of drought stricken lawns and landscapes. The National Association of Realtors reported in Real Estate Magazine that such an improvement can boost sales by more than 10 percent and often up to 12 percent. Read that news story here.
Whether lawns are brown due to drought, water restrictions, seasonal dormancy or other conditions that can lead to brown, dry or patchy yellow lawns, Endurant's earth friendly products make creating green lawns no problem.
Buy Now or learn more at www.GreenLawnPaints.com first.