Your lawn is critical to selling your home
Endurant is the fastest solution to brown grass, flaws and landscape blahs!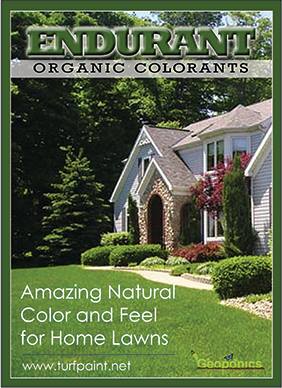 If you want your home to sit on the real estate market or be devalued by 10-12 percent, let the lawn stay brown. Otherwise, you need to get that brown grass to green grass and fast!
How important is the look of your lawn in selling your house?
As you likely know, curb appeal is one of the most important elements for property value and home sales.
Lawn condition hits you where it matters: in the first impression. A lush looking landscape sets the expectations of what's to come through the rest of the home's condition and maintenance. This is where you can set the perceived value that you are seeking. Often the lawn and landscape is among the first things you see and thus can have the greatest impact on home sales.
One of the most impactful ways to increase the look of a lawn is to make sure it is green and consistently green. The fastest way to get a green lawn: Endurant grass paint. Endurant organic turf colorant will set your lawn apart. You will have the best looking lawn on the block and in the neighborhood. This is why turfgrass professionals have used Endurant organic colorants for their televised events where millions of viewers will get a look at their turf! They use it for TV, while realtors recommend it to property owners and sellers for a quick, effective boost in home sales.
Green lawn & landscape with Endurant can increase property value up to 12 percent
Edges, contrast and lush green grass are the most essential aesthetic aspects of a highly rated lawn and landscape. This can boost a home's value by as much as 12 percent, according to the National Association of Realtors and research from Virginia Tech published in October 2014.
Lawn & landscape painting with Endurant is easy DIY project to boost home sales
You can hire a lawn care company to do it for you or paint the lawn yourself. One of the easiest Do-It-Yourself projects is painting your lawn. You can even paint your mulch to save money and the hauling of heavy new mulch.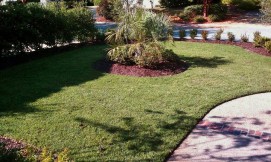 Of course there are other ways to improve a lawn and landscape as well, but we're keeping it simple here for you so you can get the greatest bang for you buck in the least amount of time with the least harmful impact on the environment!
Endurant organic colorants are available for grass and mulch and ponds! The entire landscape can get gorgeous contrast and eye-popping contrast to attract buyers with instant results!
All you need to paint your own lawn and get a gorgeous landscape:
Endurant organic turf colorant. Endurant has an impressive line of colorants for grass, mulch or pinestraw. There is even a pond colorant to quickly spruce up your pond or water feature with natural black or blue. Nothing drops a home's value and look like a mucky pond filled with algae! Starting with the lawn and mulch? Select your Endurant organic grass paint &/or mulch colorants here.
Garden sprayer for grass paint application
Water for application of Endurant Organic Turf Colorant