Who has the greenest lawns in California during this long drought? Two groups: Lawmakers who are breaking the laws watering their lawns in the middle of the night and those using Endurant organic turf colorant!
Greenest lawns the wrong way: Breaking the law
Investigative TV reporters at NBC see California legislatures have immaculate green lawns while others go brown due to drought and water restrictions. How are they doing it? By breaking the law in the middle of the night, watering their lawns, curbs and sidewalks. Yikes. And it's adding up to millions of gallons of water! Even the legislators didn't deny their actions.
The real leaders are painting their grass with Endurant organic lawn paint to save water and get the greenest lawns in the most environmentally friendly way possible. BUY NOW. Show the lawmakers how to lead!  Check out www.lawncolorant.com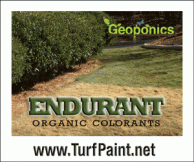 Use the turf colorant used by turf professionals and golf course superintendents for years! Endurant
Being one of the few people to have one of the greenest lawns does not have to be shameful. It just needs to be done right! It's easy painting with Endurant organic turf colorant. You just need a simple garden sprayer, Endurant turf colorant and water– but A LOT LESS water than those lawmakers are using!!! See how and buy now at www.lawncolorant.com.