Brown grass isn't dead grass: What causes winter dormancy and what you can do about it
Golfers visiting the southeast U.S. from northern areas are sometimes surprised to see brown grass on the golf course. In the winter, this is natural. As the transition time of fall is near, and turfgrass is approaching its natural winter dormancy, turfgrass and landscape managers have a decision to make. Let it all go brown or use a colorant to get through winter until spring green-up occurs.
Have you ever wondered why grass turns brown in the winter in the southern U.S.?
Golf Course Superintendents throughout the Southeast have heard the remarks and questions from visitors: "How can this be a highly rated golf course with all this dead grass?"
When temperatures get cold enough, warm season grasses, such as bermudagrass, lose their green color and turn brown. It's not dead. It's natural winter dormancy.
USGA Agronomist of the Southeast Region Chris Hartwiger puts it perfectly: "Fortunately, golf is played on grass, not on color."
As we come into fall, golfers may see plenty of brown grass on southern grasses.
So what causes these warm season grasses, such as Bermudagrass, to turn brown in the winter?
Three elements change in the transition from fall to winter that cause dormancy. These are chlorophyll levels, light intensity, and temperature.
Chlorophyll is a green pigment that gives grass leaves their color. It absorbs light in the energy-producing process called photosynthesis.
Chlorophyll production in turfgrass is highest when the light intensity is lowest. That's why turfgrass in shaded areas is often the more vibrant green than in open highly sunlit areas.
As light intensity increases, the rate of breakdown of chlorophyll increases. Meanwhile, as temperatures decrease, the growth rate of the plant decreases, and with it, the production of chlorophyll decreases.
The combination of high light intensity and low enough temperatures causes the chlorophyll breakdown to exceed the rate of chlorophyll synthesis and the turfgrass leaves turn brown. Chlorophyll is simply breaking down faster than it can be produced in the lower winter temperatures.
What can you do about it? Endurant Turf Paint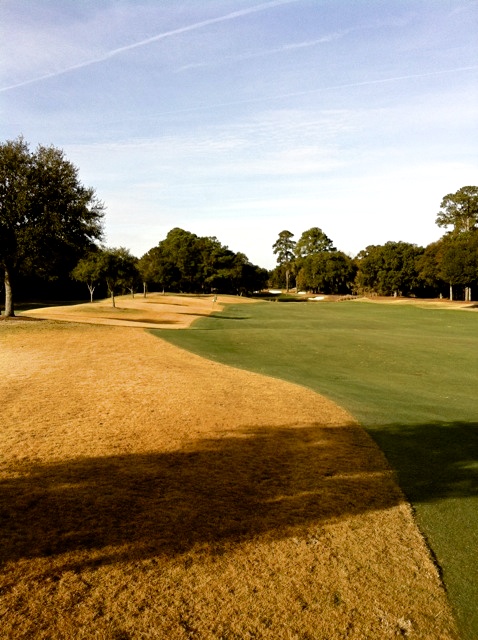 Painting warm season grasses with organic Endurant turf colorant provides a solution to the dead-looking brown grass that is a natural dormancy stage of warm season grasses during the winter months.
Since golfers often want to see green grass, even if simply to aid in a bright target on putting greens, Geoponics provides an earth-friendly natural solution with an organic line of Endurant turf colorants.
Endurant Turf Colorants can be used on putting greens, fairways and common areas to give golfers the color they expect.
Painting grass with Endurant also aids in the health of plant, increasing the temperature with the darker color. It's an easy process. Click here to learn how.
Click here to choose the best Endurant Turf Colorant for you.