Reporter Alan Blondin of Myrtle Beach Sun News features practice of coloring versus overseeding
View the orginal article here.
MYRTLE BEACH — Grand Strand golf course operators have always assumed green is the color of choice for visiting golfers in the winter and early spring.
It's the reason courses have gone through the expense of overseeding for decades with cool-weather grasses poa trivialis on greens and ryegrass on tees and fairways while warm-weather Bermudagrass is dormant.
In increasing numbers, course operators and superintendents are becoming more and more comfortable with another way to achieve being green.
The proliferation of fine-bladed ultradwarf Bermudas on greens on the Strand over the past decade also brought about the policy of coloring dormant Bermuda greens rather than overseeding.
Behind the lead of Brunswick Plantation superintendent Rob Vaughan, that trend is working its way down fairways.
Brunswick Plantation was the first Strand course to color fairways green in 2010, and at least seven other area public-access courses are coloring fairways this winter.
"We put ryegrass down to give it definition and color, because everybody wants it green," Vaughan said. "We can do the same thing with colorants or pigments, and instead of being on ryegrass say nine months out of the year and Bermuda three, I can now be on Bermuda 10 months and colorants two, under a normal situation. In February, I'll be mowing Bermudagrass again."
The result of coloring for players is firmer, faster course conditions, particularly during the fall golf season when watering of seeding is avoided, and the coldest months when the Bermuda is in full dormancy. "The USGA is pushing a fast, hard, firm golf course, and ryegrass just can't deliver that," Vaughan said.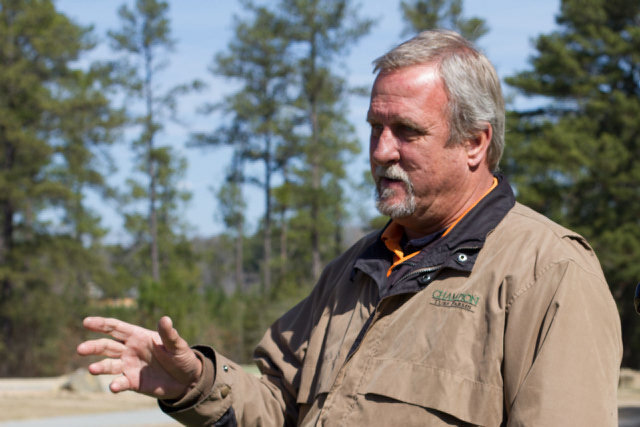 Fairway coloring was among the topics broached at the Carolinas Golf Course Superintendents Association Conference and Trade Show at the Myrtle Beach Convention Center from Monday through Wednesday.
The only things overseeded at Brunswick Plantation are tee boxes because the ryegrass can handle the heavy traffic on a confined area better than dormant Bermuda.
Vaughan wanted to experiment with coloring on fairways on nine of Brunswick Plantation's 27 holes in 2010, but owner Mason Anderson took a chance by opting to do every hole.
Jennifer Seevers of the Geoponics Corporation, which sells organic fertilizers, took coloring samples from Vaughan and co-developed an organic coloring product called Endurant. She helped Vaughan change applications and variables on each hole to fully study the product's effectiveness. "We did 27 holes 27 different ways," Seevers said. "Every hole was an experiment."
Vaughan received the same amount of money as if he were overseeding. "We went all in," Vaughan said. "It took me awhile to dial things in with nozzles, pressures, rates, etc., but after about the 25th hole we got it dialed in."
Older coloring agents had a tendency to fade to a blue color, leaving a Smurf turf, but the new Geoponic product co-developed by Seevers remains green through its fading. "As soon as it hit the ground I said, 'This is a home run. This is it,'" Vaughan said.
The heavy watering of ryegrass in the fall creates soft and wet conditions and often results in cart path-only policies during the fall season. Coloring also avoids a transition period throughout the spring in which reviving Bermuda has to compete with dying ryegrass for supremacy.
"There are some economic factors involved, but it's overall general turf appearance and health, and not having to go through the transition in the spring," Vaughan said. "I like it because I know what I've got year-round. Nothing is covered up, and you can keep your property weed-free easier."
Courses on the Strand opting to color fairways this year using Geoponics products include Caledonia Golf & Fish Club for the second consecutive year, International Club of Myrtle Beach, Crown Park, Brick Landing, Carolina National and private courses DeBordieu and Wachesaw Plantation. Black Bear and Burning Ridge are coloring fairways with a different product brand.
"It's catching on," Vaughan said. "You just have to get the golfer educated."
The USGA Green Section's Southeast region director, Pat O'Brien, projects that within five years as few as a handful of courses in resort areas like Myrtle Beach and Hilton Head will overseed fairways.
A number of courses in Virginia and North Carolina are also coloring fairways this winter, including Pinehurst No. 2 in Pinehurst, N.C., which will host the U.S. men's and women's opens on consecutive weeks in June. Pinehurst Resort operators opted to bypass overseeding after analyzing the winter conditions at Brunswick Plantation.
The Geoponics Endurant TE Turf Enhancer, ENDURANT-TE, pigment recommended for actively growing Bermuda and Endurant Turf colorant recommended for dormant Bermuda are both organic and won't harm turf.
In addition to being able to bypass transition periods, Vaughan said the green coloring stimulates Bermuda growth in winter months because it absorbs the sun's heat. Vaughan did a temperature study on a 50-degree day in February 2010 and found his painted greens were 68 degrees an inch below the surface, the painted fairways were 62 degrees and the brown dormant rough was below 50 degrees.
Vaughan sees few negatives to coloring, though courses with a lot of play may be concerned the turf will get too beat up during its dormancy, and as the winter progresses greens tend to get faster and fairway lies tend to get tighter.
Coloring is cost-effective, and will likely become more so in coming years because of the rising cost of ryegrass seed, which increased 15 percent to more than $1 per pound this year and is expected to increase another 15 percent or so next year. Farmers in the west are growing less ryegrass seed, which has to be transported to the East Coast.
"I can buy enough pigment to color the golf course cheaper than I can overseed, then the savings on fuel, water, electricity, labor, machinery and fertilizer is unbelievable," Vaughan said.
Contact Sun News reporter ALAN BLONDIN at 626-0284.
Read more here: http://www.myrtlebeachonline.com/2013/11/20/3852280/myrtle-beach-area-courses-finding.html#storylink=cpy