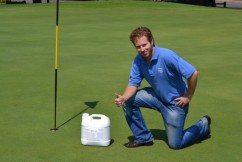 Matthew Thorpe of Green Earth Investments, a new Geoponics distributor in South Africa, applies Penterra at the first golf course in the region to use Geoponics, Randpark Golf Club.
Geoponics Corporation, based in Naples, Fla., is reaching across continents joining forces with its newest distributor, Green Earth Investments, in South Africa.
Leaders of both organizations say it's a joint venture that just makes sense.
Geoponics is an environmentally-friendly company supplying green products and services to lawn and turf, garden and golf course managers using earth sciences to foster water, soil and plant health.
Green Earth Investments was founded by brothers Julian and Matthew Thorpe with the aim of providing earth-sustaining, biological and non-chemical products for plants, humans, animals and fish.
"The aim of the company is to find a more environmentally friendly way of sustaining our golf courses by introducing products that won't harm the environment. This is why we are so exited about the Geoponics products as it fits so nicely with our vision," said Julian Thorpe of Green Earth Investments.

Geoponics is equally enthusiastic about the venture.
"I am so pleased and excited to have Green Earth Investments as a part of the Geoponics family expanding our reach to South Africa," said Robin Wicker of Geoponics.
The first Geoponics product hit South Africa soil through Green Earth Investments earlier this month (January 2012) and was a great success.
Randpark Golf Club in Johannesburg, South Africa applied Penterra (www.Penterra.net), which immediately began doing what it always does– MOVING WATER through the soil while improving the growth and activity of aerobic micro-organisms necessary for a healthy soil profile environment.
The beneficial secondary effects to challenged areas such as localized dry spot were noticed rapidly and the course is beginning to save much needed water.
Not only is Randpark Golf Club improving the soil with Penterra, the course managers are adding a long term soil management to the turf and plants to make them healthier, and increase its disease and insect tolerance.
Randpark is the second longest course in South Africa and its use of Geoponics products while undergoing renovations and remaining playable is part of protecting that ongoing investment.
Green Earth Investments, similar to Geoponics, seeks to provide products that provide solutions while protecting the Earth's resources—particularly one of the most valuable resources, water.
"We are always looking for new ways to do things more efficiently and with more care," said Thorpe.
Some of the products that Green Earth Investments will be offering to the South African Green Industries are: Penterra, HydraHawk, FertaFlow, Carbotein, Agriox and Detox
Contact
Green Earth Investments
Direct: Julian Thorpe
Julian@gritmaster.co.za
Company website: greenearthinvestments.org
Contact
Geoponics Corporation
3425 Radio Road Bldg 202
Naples, FL, U.S., 34104
(877) 667-6330
info@geoponicscorp.com
www.GeoponicsCorp.com
www.FB.com/Geoponics
More product information
www.SoilSurfactant.com
www.Geoponics.TV