Pinehurst hasn't experienced such a tough, cold winter in 22 years and yet the golf course is looking better than ever for the U.S. Open and the Women's Open. So what's the secret?
The Pinehurst golf course is the center of attention in the golf world through June and here's how the management and golf course superintendent got the course in such great shape:
Instead of overseeding the fairways with ryegrass, green paint was applied to the fairways. That turf colorant was Endurant, now available in Endurant FW (for fairways) Endurant TC (for dormant turf) and Endurant TE (with turf enhancer for actively growing grass).
Greens were covered while temperatures were colder than 20 degrees F.
Burlap covered putting surfaces and high traffic areas.
Learn more about the experiences Bob Farren, Pinehurst's Vice President of Grounds and Golf Course Maintenance, and Kevin Robinson, golf course superintendent here.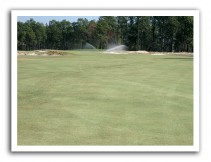 Check out more about Endurant here and contact Turf Colorant Division Specialist Jennifer Seevers jseevers@geoponicscorp.com or Geoponics direct at 1-888-ECO-GROW, info@geoponicscorp.com for more Endurant turf colorant specifics.
We frequently have contests to win samples of Endurant turf colorant and other Geoponics products. Check us out on social media, follow, friend, join our circles!
www.Facebook.com/Geoponics
www.Twitter.com/Geoponics
Google +
You Tube: www.Geoponics.TV