Two favorites– golf and fishing– in one fairway. Aberdeen Golf & Country Club in Longs, South Carolina, which is just minutes from North Myrtle Beach, had heavy rains and floods that left the greens under water for 26 days in July.
After fishing in the fairway, Golf Course Superintendent Jim Burris needed his Bermuda grass greens to recover from having spent weeks under feet of water. Agiox (Agriox.com) and Penterra (Penterra.net) were the products he used to make an incredibly quick recovery. No soil surfactant in the world is faster than Penterra and there is no better solution to anaerobic conditions than Agriox, he quickly learned.
This summer, this area received record rainfall. Aberdeen Country Club's golf course is located right along parts of the Waccamaw River. Due to the record rainfall, the Waccamaw will rise and crest at times. This occurred in July. The floods left 9 holes of this 27-hole  course closed for weeks.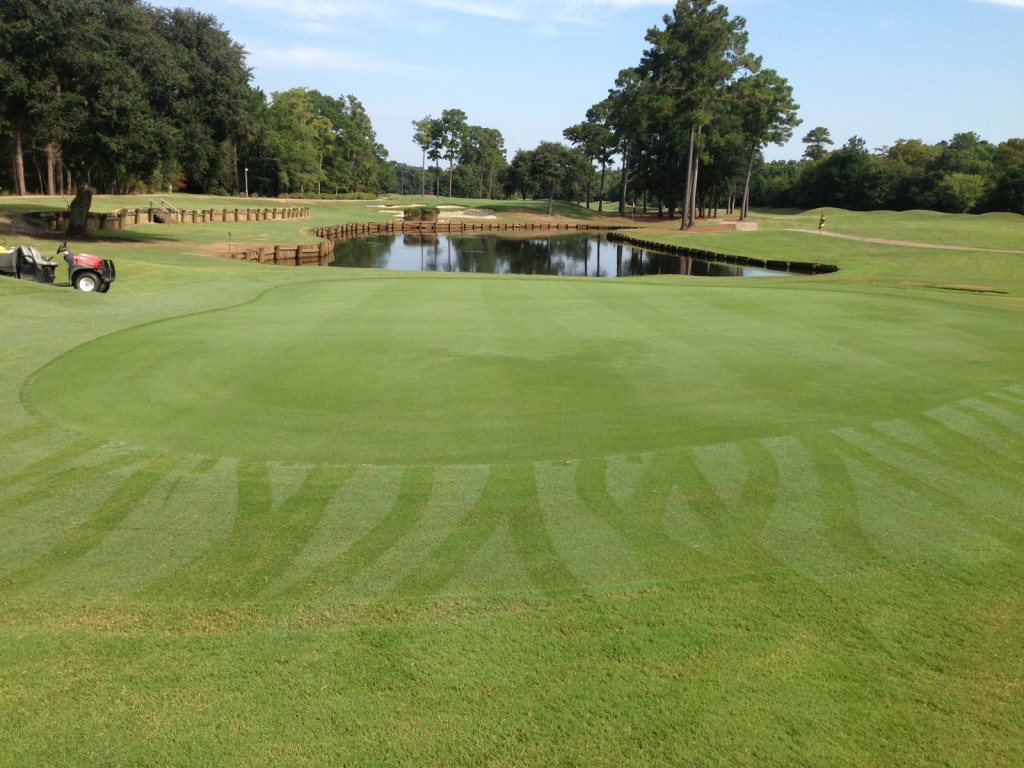 This green (pictured) and others (fairways too) were under water for a total of 26 days. When the water receded enough to address the greens, it showed massive saturation, coated with river sediment and black algae. Wetting agents, soil surfactants and soil peneterants were needed fast! The soil needed oxygen and nutrients from Agriox. All mulch, straw and landscaping areas were just completely washed away. Numerous shrubs and ornamental trees were halfway under water.
Burris immediately started applications of Penterra and Agriox when the flood water receded. This green is by far one of the best in the area following these floods. Burris was able to move the water through the soil profile (thanks to Penterra), address the algae and anaerobic issues (with the help of Agriox) and get back to good plant health (with Geoponics and fast-thinking Superintendent)!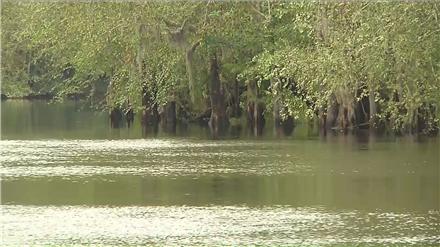 To put it in perspective, there were areas on this 9 holes where the only land visible were the tops of the mounds. Seeing that, Burris decided to go fishing one evening and caught a bass in his fairway!
Burris is continuing to apply Agriox and Penterra and the 9 holes are slated to reopen on October 1.
Contact Geoponics today for any of your water management needs as well as for other products to foster optimal turf, garden, plant, tree and soil health. Geoponics provides affordable, earth friendly solutions to superintendents, landscapers, municipalities, the agricultural industry and homeowners. 1-877-ECO-GROW info@geoponicscorp.com
www.GeoponicsCorp.com
www.TurfPaint.net
Follow us on Facebook!
www.Facebook.com/Geoponics
Tweet with us on Twitter
Watch on You Tube
Subscribe to our email newsletter for savings and tips by clicking here.