Turf colorant: the fastest way to luxurious grass and without environmentally-harming fertilizers. Endurant turf paint is used by many golf course superintendents, property sellers, sports field managers, greenskeepers, landscapers and others to get instantly green, luxurious grass with a natural longlasting pigment that is environmentally-friendly and cost-effective.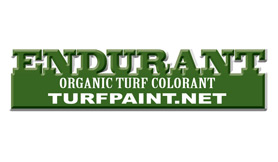 Turf paint can be used on anything from dormant grass to actively growing grass (Endurant TE with turf enhancer for healthy soil and turf), mulch, pine straw, sand and even ponds. Turn your brown grass green with easy to use Endurant.
Turf colorant is recommended by the USGA (United States Golf Association) over the practice of overseeding and we can see why. Save money, water, harmful chemical-usage AND get results that golfers, club members and everyone loves! Easy to apply, ready to use instantly and safe for children, players, pets and wildlife.
A picture IS worth a thousand words. See how it works:
Then contact Geoponics Turf Colorant Division Manager Jennifer Seevers. If you've got questions, she's got answers. Email jseevers@geoponicscorp.com or call her today at (843) 450-0210. Contact Geoponics by email: info@geoponicscorp.com or call 1-877-ECO-GROW (1-877-326-4769).