Dermy Jones, greenskeeper, Raffeen Creek Golf Club, Ringaskiddy, Ireland
(www.raffeencreekgolfclub.com  )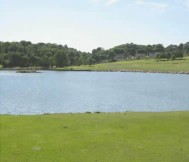 Q: Can you tell us a bit about Raffeen Creek Golf Club and its features?
Greenskeeper Dermy Jones: It's located 12 miles outside of Cork City. It's very close to the sea at Cork Harbour but without being a links course. We have a 9-hole golf course, an 18-hole pitch and putt course and two soccer pitches.  We have two saltwater lakes.
Q: What are the soil and turf like?
Greenskeeper Dermy Jones: Limestone. It's silty, heavy soil. The greens are of the old construction style with predominantly annual meadow grass greens, but we keep a lovely surface.
Currently temperatures are between -2 degrees Celsius and 10 degrees. Growth is very, very slow. We're mowing once or twice a week.
Q: Which Geoponics products are you using?
Greenskeeper Dermy Jones: Penterra (www.Penterra.net) and Detox (www.SoilDetox.com)
Q: How did you discover Geoponics products and why did you choose to try them?
Greenskeeper Dermy Jones: A ProGrass representative (Brian O'Carroll) called me about five months ago. He and a greenskeeper in midland Ireland told me about Penterra and Detox. I read the literature on it. Unless you try something yourself, you wont' actually see the results.
Q: What challenges do you or others in your area typically face?
Greeenskeeper Dermy Jones: We had a very, very wet summer. Actually we had a wet year. In 2012, we got a meter and a half of rainfall throughout the year.
The surfaces were wet. The greens were holding water. As much as we aerate, as much as we sand, the surface water was sitting there. With that and the dew, the conditions were perfect for disease.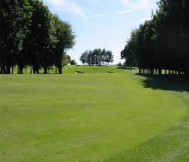 Q: How did Penterra assist with the challenges of a wet surface, dew and disease susceptibility?
Greenskeeper Dermy Jones: For taking dew off the surface, I've never seen anything like it and I've been a greenskeeper for 25 years and worked on three courses. The Penterra pulls the moisture out of the top layer much better than anything else I've used.
It makes cutting much better. The Penterra even keeps the frost off the greens. There's not as much moisture there to freeze. Every 14 days we spray and there is no dew, no disease.
We were looking to get the water off the surface and the Penterra did just what it said it would do. Our greens have dried up so much. We've been open everyday, except for a couple of mornings for frost.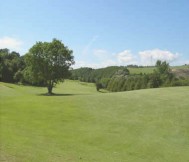 Q: As for the Detox, was this to address sodium in your soil?
Greenskeeper Dermy Jones: Yes. We're starting with the two together—Penterra and Detox. I found great results with this. I'm still waiting on the soil analysis test to come back.
We got saltwater on one of our fairways after a high tide a couple of times. The first time the water was high the turf yellowed and took some time to recover. It looked like it was dying off. But this next time it happened, we put the Detox on it as soon as we got the water off. It greened up again in a matter of days.
Q: How was your service with Geoponics in regard to technical assistance?
Greenskeeper Dermy Jones: (Brian O'Carroll) The distributor from ProGrass (www.Prograss.ie) keeps me up-to-date. I can ring him up anytime and ask him what products I can put with it. He rings me on a regular basis and asks if I have any problems.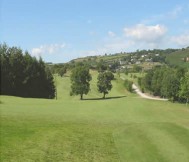 Q: Any other experiences or tips I may not have asked that could help other greenskeeper or golf course superintendents?
Greenskeeper Dermy Jones: I haven't been through a full growing season with Penterra yet, but if it's even half as good of a soil surfactant as it is a wetting agent, it will be superb.