Greenkeeper John Peach shares how Geganics on Kikuyu grass leads to spectacular fairways at Paarl Golf Club in Cape Town, Western Cape, South Africa in just one week. This gorgeous 27-hole course originally opened in 1908 before being relocated and redesigned in 2000 by David Frost and Danie Obermeyer, who brought the Berg River further into play. Learn more about the course here http://www.paarlgolfclub.co.za
Geganics is a customizable fairway program provided by Geoponics Corp that ensures healthy soils leading to vibrant turf. The organic products manage water movement, aerobic diversity, sodium flocculation, lateral and vertical growth and soil nutrients just to name a few benefits.
This sustainable program leads to vibrant color and turf uniformity that superintendents and golf course members alike notice very quickly.
It's easy, it's environmentally-friendly and it's affordable. Contact us for more information.
info@GeoponicsCorp.com 1-877-667-6330.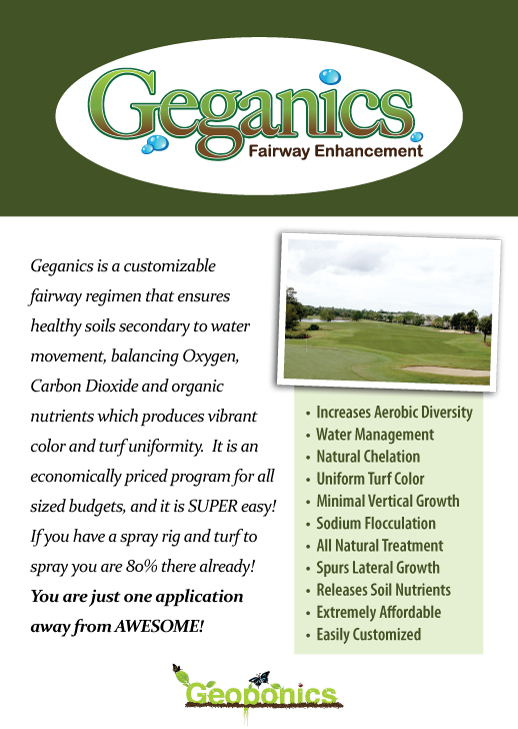 Testimonial:
Tim Haskins, Golf Course Superintendent, The Quarry
When you're sitting here talking to someone, it makes sense, but until you actually get out in the field and see it work, you don't really get it.
I can tell you that after spraying Geganics I was on the phone going, "Wow. I've never seen anything like that."
I've never seen too many products have an affect on color and this product did. It's noticeable within an hour or two. My members see a noticeable change.
I'm in a much better spot this year from last year in terms of my color, my density, my moisture management.
We're getting three or four weeks out of the longevity of the color, which is fantastic. Last year, we actually used a pigment on the fairways just to add a little bit of color. We won't have to use that this year because of the program. There's no reason for it.
Look and listen to this superintendent's experience here:

Try it today. One application and you see a difference!
Contact us:
info@GeoponicsCorp.com 1-877-667-6330.
Geoponics Corp
3415 Radio Road #305
Naples, FL 34104