Several months ago, a woman who lost her mother to cancer came upon a Geoponics booth at a "green" trade show in Florida. She was impressed with the idea of an organic fertilizer and the knowledge provided by the Geoponics team member she met.
Vicky thought it would be perfect for this organic garden at a hospital in North Naples, the Garden of Hope and Healing, which is managed for and by cancer patients and their families.
Since neither the hospital staff nor the patients are professional farmers or even well-practiced gardeners, they had some challenges maintaining a fully organic garden of produce.
They started using FertaFlow(TheOrganicPlantFood.com) and are reporting the best results ever in growing several vegetables that will feed their immune-compromised patients.
Here is their story:
What is the garden?
The Garden of Hope and Healing was started three years ago by our cancer support group "Survivors and Friends," who were not satisfied with not having a hand in their own treatment. They wanted to take some control back in a situation where every doctor and nurse and agency was telling them what they could do and what their chances of survival were.
Why is it important to be fully organic?
These are people very determined to live and live well. They know that organic and alkalizing foods help to fight cancer.
Due to patients having compromised immune systems, they must be at six months out of treatment to work in the garden. However, they can come out and participate by recommending weeds get pulled in a certain area and in other ways. Organic matter can get them sick. The produce is harvested, bagged and available for the support group on Tuesdays, so that if anyone chooses to take some they can. We are conscientious about avoiding infections in our immune compromised members, so they actually never touch the produce.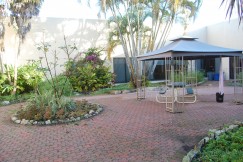 How did the Garden of Hope and Healing go from an idea to a reality?
Where we meet for our group sessions has a window that looks out on to a courtyard at the North Naples Community Hospital. It was very weedy and overgrown but it had potential. We asked administration if we could start an organic garden and were given permission to do so.
Our volunteer auxiliary people even gave us a grant to get it started. It was cleared, gravel and insecticide riddled dirt were removed, garden beds developed and we've never looked back. Volunteers from various parts of southern Florida have helped us to continue the transformation. Businesses have donated plants, seeds, tools – or we've been given very good discounts – and the progress continues. We're looking forward to a Boy Scout Eagle project to start some time this year to help with enlarging the beds and creating safe seating groups and a shelter so everyone can come out and enjoy the Garden.
Some patients come back and work here once they are six months out of treatment because they are so highly motivated. They made it through this and they want to help other people.
How common are these gardens?
These kinds of places just don't exist. There are many people, experts and practitioners in the areas of infectious diseases, who don't like these. They don't like the risks. That's why we are very careful about everything we use and everyone who comes here.
What are some other challenges?
The problem is that organic food is also very expensive. Anyone going though cancer treatment will tell you, your financial world is also turned upside down, along with all the emotional turmoil and personal implications. So, while this garden helps with that, getting it going has some challenges.
We are not farmers by profession and we learn as we go.
I get so nervous when a tree or plant that was dedicated to a lost family member or in honor of someone starts to go wrong.
What plant or tree works best where is coming together finally. Taking care of damaging bugs and critters is always a challenge.
Making sure every product we use is truly organic has made taking care of the garden a bit difficult.
How did you come across Geoponics and why did you try it?
The challenge of ensuring that all our products are truly organic is why we were all so excited about Geoponics.
One of our group members, Vicky, was at a "green" trade show and met the some of the people from Geoponics. She was very excited and came back to tell us – we've been very happy about that chance meeting!
Geoponics gave us two huge jugs of the concentrate FertaFlow and we've used it to good results.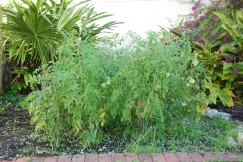 What results did you observe with FertaFlow?
We've never had the tomato plants glow so fast that we couldn't keep them supported fast enough! They're a foot taller than they were at this time last year.
We have a couple test patches of cabbages – the plot with Fertaflow is much further along.
The onions treated with FertaFlow on the right side of the bed are taller and heartier than those on the left side of the garden bed that did not get the FertaFlow. It's going to make a big difference come harvest time.
For me, the next big plus has been the smell – it really doesn't stink. This is a hospital courtyard after all! And the fact that we have an organic garden in it is a national rarity! We want to be sure to comply with all the regulations the hospital must conform to, so we are very careful about who can work in the garden, the dirt issue and the smell. Our patients come here to get well and I can't have them getting sick due to a strong fishy smell. This product is minty smelling and mild at that. I'm a bit messy, but if I get some on me I don't stink when I have to walk by a patient.
Also, I thought I was losing one of the dedicated trees, but it is coming back with lots of new growth after being fertilized.
We are impressed with this product and its results.
Thanks!
~Bob Weiss and Therese Richmond, NCH North Campus, Compassionate Drug Program, Outpatient Infusion Services