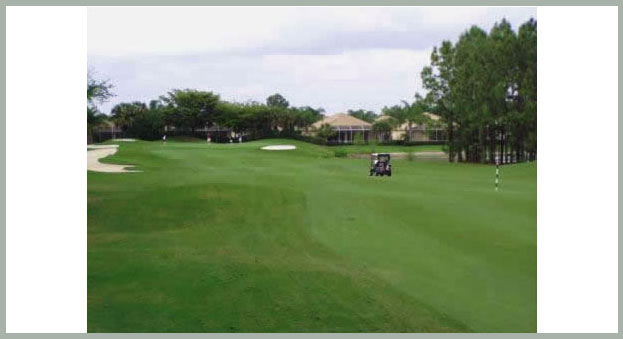 When I was first introduced to the Geoponics line of products, I was skeptical. Every salesman comes into your office with the same story about how this is the best product ever, but you have to buy it before you find out it doesn't work. So the way I look at it now, when you have a program in place, you don't modify it unless you have an area where you're looking to improve. Besides, it's human nature to resist change.
But when it comes to moving water, I've always been willing to try something new. Our greens have gotten slow to drain due to clogging caused by some of the materials used when they were constructed. They aren't very big greens anyway, so once you add 240 rounds a day, compaction becomes a real issue. When I explained the situation to my Geoponics sales representative, he asked me to try Penterra. I've been using it ever since, and now the water moves right through.
You can just tell it's breaking everything up, and that's especially important when you have the kind of heavy rains we get here. Before the greens would lock up and we'd start moving towards black layer, but not any more. When a storm is headed our way, I can put the Penterra out and not have to worry. On the other hand, when it gets to be dry and windy and we are looking to hold some moisture, we use Humawet instead. I used to have 2 guys out there hand watering all day, and now we just have to do a little touch up in spots.
We use the soil oxygen product Agriox as well. It's an incredible product. You can see how it helps release tied up nutrients and gives you a nice even green. It's been a complete night and day response from before I started using it, and now it's an important part of my program. We used to fertilize every 10 days or so, but the grass doesn't start looking as hungry as soon any more. Now we can get almost an extra week out of the same amount of material. I've run the numbers, and we save over $15,000 a season in labor and material, so the products really do pay for themselves.
I was looking to improve my tee boxes and decided to spray Carbotein. My clipping ratio from before spraying weekly to now is night and day. Visually it's obvious because our divot recovery is much faster than before, and the turf is much more dense. I've actually had members ask what I do to make them "like carpets." About once a month we use the Penterra on them, as well as on the fairways, just to loosen things up and get a flush. Before we started doing that we'd see signs of compaction when little brown spots would pop up, but they have all gone completely away.
The turf everywhere on the course looks uniform now, which is what you want to accomplish as a superintendent. I am very pleased with all the benefits we've seen, and glad that my owners and membership have noticed the improvements as well.
Francisco Navas, Superintendent
Cypress Woods Golf & Country Club
Naples, FL