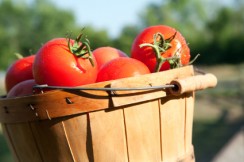 Growing a Robust Plant with Carbotein Provided Elisabeth Fry's Heirloom Tomatoes the Vitality to Survive Weeks of Severe Drought Stress
Grow Better Tomatoes with Carbotein.com
I am a hobby gardener that keeps a small backyard patch with everything from lettuce to potatoes. After learning about Carbotein, I was pleased to have the chance to experiment with a truly environmentally friendly, natural fertilizer. I selected heirloom tomato plants for the test, and potted them in separate containers. The test plant received a root drench of Carbotein, and the control was not treated with anything other than the fertilizer in the potting soil, which I used for both. The plants received normal waterings.
During the time of growth, the infused plant was more compact, greener and fuller than the untreated plant which grew taller and had fewer buds. Unfortunately, in the middle of the trial I had to unexpectedly leave town, and when I returned home discovered the plants had been neglected almost to the point of no return. Without much hope, I began watering them regularly again, and lo and behold the one treated with <a href="http://www.carbotein.com">Carbotein</a> (which I now call The Wonder Plant) recovered quicker and more completely than the other plant which has almost no regrowth. Since then I've been lucky enough to get the opportunity to eat them before having to go on location for work again. Compared to the control plant, the root drenched tomatoes were redder, juicier and more tasty, and there were bunches more of them!
I am so very happy with the product, and will continue to use it. In fact, I have already infused my newly tilled beds with Carbotein, and I'm excited to see what it will do for my summer plantings.
Elisabeth Fry
Orange County, CA