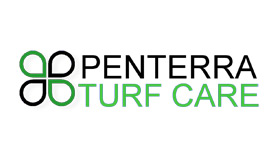 Buy Now
Penterra Is the Fastest-Acting Soil Penetrant on the Market
Penterra™ gets water moving through the soil profile faster than any other product. It is a highly effective soil penetrant and soil surfactant product for addressing hydrophobic profiles and horizons.
Penterra keeps soils from locking up. It aggregates soil, including clay soils that need it most. Penterra improves soil structure and allows water and oxygen to better reach plant roots. This fast soil penetrant does this by reducing the surface tension between the water and the soil.
Penterra also assists fertilizers, making them more effective. It does this by increasing plant nutrient uptake. Further, Penterra assists in keeping the soil aerobic by increasing the amount of oxygen exchanged with the soil profile.
Penterra is designed to decrease the surface tension between water, soil and plant while improving the growth and activity of aerobic microorganisms. These microbes are necessary for a healthy soil profile environment.
Perhaps best of all, Penterra is easy to use.
It has beneficial secondary effects, such as correcting LDS (Localized Dry Spot). This improvement is noticed rapidly. Not only are you improving the soil, but you are adding a long term soil management benefit to the turf and plants to make them healthier, and increase disease and insect tolerance.
Penterra is a valuable tool for golf course superintendents, landscapers, lawn maintenance crews, gardeners, horticulturalists and land management companies. It is often used very effectively as well in sports field management and home use.
Watch How Fast Penterra Is When Compared with Other Brands
Benefits:
Decreases surface tension
Helps to loosen hard clay soils
Activates soil organisms
Conditions the soil
Extremely fast-acting
Aggregates soil
Opens soil pores
Breaks up hardpan and crusting
Helps dry out wet areas
Reduces compaction
Improves rooting by loosening soil
Improves air and water penetration
Helps save water and reduce plant stress
Improves drainage and prevents erosion
Improves porosity
Economical
Environmentally friendly
Testimonials:
"I have never seen a surfactant pull water so quickly off the canopy, and I've used them all. I'll give them credit. It really does what they say it will do."
Robby Henderson,
Golf Course Superintendent
Maggie Valley Club and Resort
Maggie Valley, NC
"It is the single best product for what it is that I have used in 25 years as a superintendent."
Johnny Powell
Golf Course Superintendent
North Myrtle Beach, SC