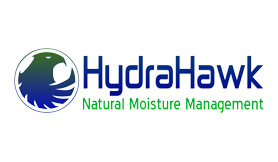 Buy Now
All Natural Soil Wetting Agent, Penetrant and Surfactant for Moisture Management
HydraHawk is the product of choice for managing water in soils. HydraHawk is a highly efficient soil surfactant that is fast, concentrated, very economical and best of all made from 100 percent all natural materials.
Now more than ever, turf, horticultural and agricultural managers have to be very conscious of how they are using the water that is available.
Moreover, with the environment in mind, it is important that the adjuvants used do not harm our environment in the process. HydraHawk has answered these demands.
HydraHawk is used to help water penetrate compacted or arid soils. This soil surfactant aids plant life in the uptake of water and nutrients. HydraHawk is a natural performance-enhancing wetting agent and protective agent derived from fruit and vegetable extracts.
HydraHawk contains unique natural surfactants that help the plants utilize water and survive in extreme heat, drought and soil salinity even in the more severe climate conditions. HydraHawk's unique plant extracts also contain natural sugars that stimulate beneficial microbial activity in soil.
Benefits:
Increases aerobic conditioning

Increases drainage

Breaks surface tension

 

Allows water penetration

Made from natural vegetable and fruit extracts

Aggregates soil

Extremely cost effective

 
HydraHawk is the all-natural choice in soil surfactants. It is optimal for use in almost all applications, including turf, lawn, agriculture and landscape applications. www.HydraHawk.com
Golf Course Superintendent Matt DiMase talks about how his golf club went through some significant challenges with water, almost to the point of running out. SoilSurfactant.com HydraHawk.com Penterra.net   
At the time when Golf Course Superintendent Brian Beckner of La Playa Beach and Golf Resort in Naples, FL faced extreme conditions and water limitations, he addresses those challenges and overcomes them with HydraHawk. www.HydraHawk.com