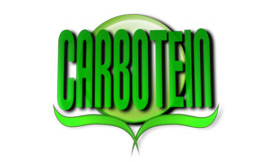 Carbotein™ provides natural plant nutrients. It is made of plants and for plants for optimal growth. Carbotein is an economical natural soil conditioner with superior plant growth promoting properties. When looking to increase growth and yields, Carbotein provides astonishing results.
Carbotein is a mixture of organic vegetable extracts that can be used alone or added to other sources of nitrogen, phosphorus, and potassium. Carbotein's nutritive components are present in the easy-to-use liquid solution. Meanwhile, it also contains high solid content for an optimal natural fertilizer.
Carbotein is an ideal source of plant nourishment while maintaining operational ease of use. With its unique organic ingredients, Carbotein can be used in both home and industrial agricultural settings without the hazards of chemical intoxication to individuals or harm to ecological processes and cycles. This makes Carbotein ideal for our planet's sustainability. Carbotein is a natural choice for growers.
How does Carbotein work?
Carbotein is a collection of specific organic vegetable extracts that have a positive and powerful effect on the growth of plants. The results are dramatic. When combined with compounds containing nitrogen, phosphorus, and potassium, Carbotein has even more dramatic effects. It increases growth yields in crops and lateral growth to offer thicker and more productive plants and turf. Whether for beautification or increasing crop yields and profit, Carbotein is highly effective. In agricultural uses, it more than pays for itself in increased yields.
Carbotein is applied to the soil as a solution when watering the plants through drip, spray or fertigation systems. The applied solutions containing Carbotein are usefully and metabolically absorbed by plants, which in turn promote superior growth and outstanding botanical health.
Plants that can be treated with Carbotein include turf grasses, ornamental shrubs, trees, and agricultural crops. This includes but is not limited to flowers, such as petunias, impatiens, chrysanthemums, geraniums and poinsettias. Carbotein leads to increased vegetable, fruit and grain yields, such as spinach, mushrooms, carrots, radishes, beans, wheat, corn, tomatoes, cotton, rice, barley, apple, pear, citrus and other fruit trees, and much more. It can be used on all plants, shrubs and trees where increased growth, budding, fruits and flowers are desired.
Carbotein can be mixed with other agricultural chemicals, such as antibacterials, insecticides, acaricides, nematocides, fungicides, selective herbicides and the like.
Research has shown, that a proper combination of Carbotein with N-P-K nutrient sources causes more rapid growth in plant roots and foliage than do commercial fertilizers alone. Carbotein is an excellent addition to plant fertility programs. Carbotein offers natural nutritional benefits and it is economically priced.
Benefits
Natural plant fertility

Loaded with vitamins and minerals

Major and minor amino acids and chelated plant nutrients

Highly soluble carbohydrate and protein levels

Increased nutrient plant uptake and productivity

Increased lateral growth and crop yields

Increased beneficial bacterial and fungal activity

Economical

Extremely environmentally friendly

All natural Ingredients

Sustainable

Increases budding

Increases crop yields
Testimonials
"Being a leader and innovator in the lawn care industry with branches from Boston down through the Mid-Atlantic region, SavATree/SavaLawn has always strived to provide customers with lawn care choices that are both effective and environmentally sensible….Carbotein and Humawet have been the core organic/biodegradable components to the success of these programs."
SavaTree SavaLawn
Bedford Hills, NY
"Once we started checking out Carbotein and realized that beyond containing organic vegetable extracts and being safe, it also didn't have the salt base, I simply had to give it a try. In doing so, we have easily saved 75 percent off of our fertilizer budget this year."
Heather Watkins-Vaughan
Plantation Golf Resort
Director of Resort and Subdivision Landscaping and Maintenance
"I am so very happy with the product, and will continue to use it. In fact, I have already infused my newly tilled beds with Carbotein, and I'm excited to see what it will do for my summer plantings."
Elisabeth Fry
Home Garden Enthusiast
Orange County, CA
"I have applied Carbotein on everything from ornamental turfgrass to flowers, on bushes and shrubs, and even to trees, and in each case, I have seen a noticeable positive impact. Plugs that were having difficulty getting established and were looking like weeds took off, even in shaded areas or in bad soils. Annuals that typically would have begun fading are still looking great, and freshly transplanted areas are not showing the signs of stress you would ordinarily expect. The foliage has become so dense in certain places, we've had to remove entire sections to clear existing pathways, which allows us to develop new cultivated areas elsewhere. The results we've seen have been absolutely amazing!"
Debbie Fitzgerald
Horticulturist
Raleigh Country Club
Raleigh, NC